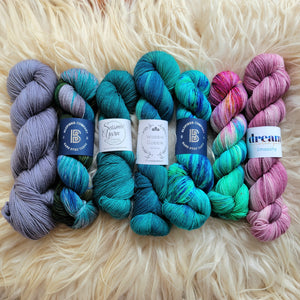 Fade Frenzy Kit #5
This Fade Frenzy is brought to you by the packed sock yarn wall in the Firebird shop, and our enduring love of making and using fades.
Fade Frenzy Kits will have a $20 discount at checkout! We don't normally offer these yarns at a discount, but we really want to see all the creative ways our customers use these honkin' big quantities of yarn (over 3500 yards in each fade!), and we're willing to put our money where our mouth is ;P
All these yarns are a combination of superwash fine wools (merino and polwarth) and may contain nylon.
Tag us @firebirdyarns on instagram with your #firebirdfade makes